"In the globalisation process that's occurring right now, every person is a global citizen… We as global citizens can communicate and interact with each other and the [NSK] passport is a medium or tool for us to re-imagine what we can do." *
Created in 1992, the NSK State in Time has become a unique entity which now has several thousand citizens across numerous countries and all continents. In October 2010 the state will examine itself through its citizens and discuss its past, present and future. At a time when national (market) state financial and political systems are tested as never before, the First NSK Citizens Congress will test the ambiguous realities and potentials of 'the first global state of the universe'.

This unique event will bring together citizen delegates and NSK members to explore debate and develop the NSK State and how to negotiate the shared and contradictory interpretations and visions of its citizens.
The congress will feature a full programme of public events each evening including:


A seminar on the NSK state featuring leading theorists

An exhibition of "Volk Art" showcasing works inspired by NSK
Screenings of films on NSK and of other related films
A closing party featuring live acts and DJs including NSK citizens.

Selected highlights of the events will appear online each day.

You can find the full programme here.
For press information please click here
The First NSK Citizens' Congress will run from 21st to 23rd October.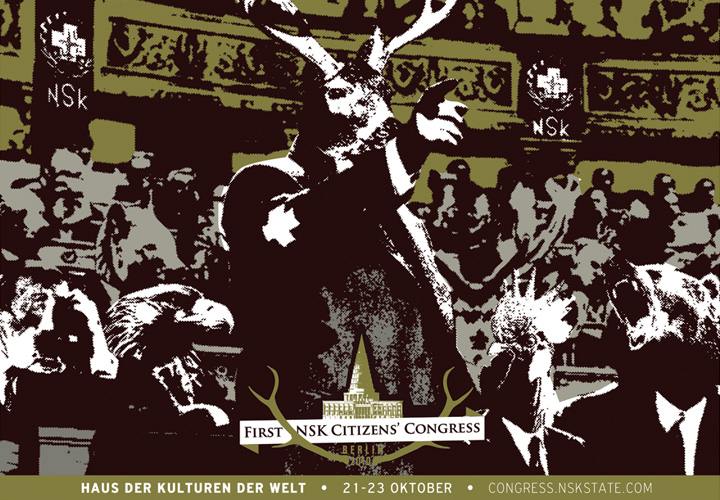 PLEASE NOTE THAT CONGRESS DELEGATES HAVE NOW BEEN SELECTED AND THAT NO FURTHER APPLICATIONS WILL BE ACCEPTED. YOU ARE WELCOME TO ATTEND THE ACCOMPANYING PUBLIC EVENTS, BUT YOU MUST MAKE YOUR OWN TRAVEL, ACCOMODATION AND VISA ARRANGEMENTS. WE CANNOT ASSIST YOU WITH THESE.
* Manray Hsu - See NSK Passport Holders, Project by IRWIN. Filmed and edited in Taipei from August 26th-28th 2008 by Maggie Liao and Po-Ying Chu.